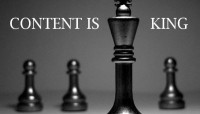 October 10, 2017
We All Know Content is King; It's Time to Stop Talking & Start Writing
Top 5, 7 and 10 lists are all the rage in blogging and, let's face it, these clickbaity headlines are hard to resist. So, when the Content Marketing Institute puts out a list of 25 predictions about where content marketing is headed, I can't help but pour another cup of coffee and settle in for some serious reading.
Content Marketing in 2022: Very Personal, No Silos, and Lots of Voice points out myriad ideas about where the world of digital marketing is headed. And they are great points — all of them.
However, at Harmonia Media, we believe these predictions should be regarded as a "To Do Now" list. There is no time to lose when it comes to getting personal, conversational and focused on UX.
The time is now to make sure your digital marketing content sings! For every day you only think about improving your web content, believe me, your competition is rocking ahead of you. Contact Harmonia Media today for a content consultation.