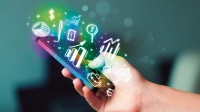 December 5, 2018
Want to Sell More? Connect with Customers Online
Want to Sell More? Connect with Customers Online
Connecting with your audience is the key to increasing sales.
Who are your audience? Customers! Anyone who wants to buys your product.
Where can you connect with them? Online.
A great digital marketing plan is a roadmap to making sure your customers and prospects can find you easily and quickly on the web.
I realize I've just simplified an entire business down to a few words. It's not as easy as it sounds but it certainly isn't brain surgery either.
3 Steps to Connecting with Your Customers
Have a clear understanding of how your product or service meets a need in the marketplace.
Create messaging that is interesting, funny, insightful, thought-provoking — anything that will attract attention and engage people and get them to click.
Use all tools at your disposal and load them with fantastic content that conveys your message (See No. 2) and uses strong CTAs (Calls to Action) to get them to ask for more information or, even better, buy!
Social Media is a great place to start. I know, I know. I'm not telling you something you don't know. However, if FB and LI and IG and sound like alphabet soup to you, we invite you to find out how to have your soup online and eat it, too.
Harmonia Media's expert content writers will make sure you are "open for business" on Facebook, Twitter, Instagram, LinkedIn — everywhere you need to be to get involved in the conversation your customers are having. We will post regularly, monitor chatter and do everything to create brand awareness and engage people in conversation. Learn more about bumping up your social media engagement is so important.
We can make sure your company is a shining star on social media while you are tending to your business. At Harmonia Media, we like to say that our clients get to focus on what they do best while we do what we do best: digital marketing!
Contact Harmonia Media today for a free phone consultation about your digital marketing strategy, SEO, content, social media and more. We've got you covered and we're ready to start today.