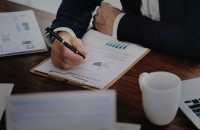 June 4, 2018
Proactive Online Reputation Management Protects Your Brand
Doing business on the Internet means you are opening your doors to a world of potential customers. That's a whole lot of people with opinions coming at you.
Make someone happy and they will likely tell a few friends. That's great news because the vast majority of consumers seek out referrals before making online purchases.
Make someone unhappy — even if it's just that they perceive or exaggerate a problem — and they are quite likely to not only repeat their story but also to post a negative review on Yelp or another popular review site. If this happens, your company will be forced to manage the fallout for a long time to come.
HOW you manage a negative review or comment may mean the difference between diffusing a difficult situation and starting an avalanche of brand damage.
By monitoring what people write about your company online, you can act quickly when there is a problem brewing and also see what people are saying — good and bad. There's positivity to be found in all reviews. There may be serious room for improvement and you may uncover opportunities for growth.
It goes without saying that reputation is important for any business. The "tell two friends" marketing strategy works — that's why social media is so popular. It provides exponential outreach. Good news travels fast. Bad news travels even faster — we all know that.
So, online, it's important to be proactive about Online Reputation Management (ORM). An effective strategy is critically important to maintaining an excellent reputation. Don't be overwhelmed. Harmonia Media will help manage your online reputation while you focus on what you do best: run your business.
Let's define "online reputation." Just like a person's reputation, online reputation is a combination of how people feel and think about your business from their own first impressions to positive opinions, negative comments, etc. they read online.
You need to keep constant watch (good places to start include your own social media platforms, Yelp, Google and other review websites along with Google Search and Wikipedia) and respond quickly and appropriately to any concerns as well as praise).
(As an aside – why should you respond when you get a good review? It shows customers you are listening. Offering them gratitude and putting a human side on the company boosts brand confidence and loyalty.)
So what constitutes an appropriate response to a negative online comment? For starters, determine if a response is necessary. Usually, it is — even if it's only a comment thanking someone for their feedback and suggesting you are sorry about the negative experience. This is the appropriate thing to do if the comment is about something factual that occurred and not simply an opinion. For example, if someone took the time to write that they are upset at delayed shipping, you can't undo the delay. You can, however, mention your excellent shipping record and apologize for the situation. Take the conversation offline and offer to reimburse shipping or provide a discount on their next purchase.
When you do need to respond (someone has written something downright false), never respond to anger or a rant with the same. Don't get into a back and forth that accelerates the negativity.
There's a right way and a wrong way to handle Online Reputation Management. However, make no mistake about it: failing to stay on top of what people are saying about you online is a recipe for disaster. You always want to be proactive and have the ability to react to a challenge instead of chasing your tail and having to try to undo the damage.
Your best bet is to partner with a company that can stay ahead of the game for you. At Harmonia Media, we would love the opportunity to discuss how we can keep your brand safe online while spotlighting why customers should be doing business with you! Give us a call and let's talk. We offer free consultations.