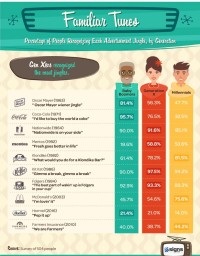 October 2, 2018
On Being Memorable
Sorry, in advance, for the earworm you are about to get
On any given day you can find me in one of two places: in front of my computer or behind the wheel of my car. I'm a content strategist and also an unpaid, overworked Mommy Uber. I drive my kid and his friends around like it's my job.
The other day, I was driving them from here to there and listening as the kids got into a conversation about their favourite fast food places. (I'm proud to say my son didn't have much to add.)
So, the topic was, what's better — a Big Mac or a Whopper?
One kid reported that he liked Burger King because his mom told him the burgers are flame-broiled and you could "have it your way."
The other boy chimed in with how much he loves Big Macs.
Kid No. 1 says, "what's even in a Big Mac?"
That felt like that was my cue. I said, "two all-beef patties, special sauce, lettuce, cheese, pickles, onions on a sesame seed bun."
All the kids laughed and my son said, "WHAT? Where did you pull that out of…"
Ah, I admitted, that's just one of the super important pieces of information I have stored in my brain from hours of watching TV and commercials — with no ability to fast forward.
My son immediately checked my memory online. When he confirmed I was correct, they all wanted to know what else I know.
That list would have to wait for another day. We were at our destination. But, as I drove away it got me thinking. How did that jingle stay in my head for 40 years? And "I am stuck on Band-Aid, cause Band Aid's stuck on me." And, "I'm a pepper, drink Dr Pepper." And "Like a good nation, State Farm is there." I could go on indefinitely.
When I got back to my desk, I did some searches and found out that a study was recently conducted on this very topic. Signs.com asked 504 people (of different ages) about whether they could recognize certain jingles. (Try it yourself here.)
So now all of that is on a constant replay loop in my head. I apologize to you now for the earworms.
But anyway, the point here is that advertising of yesterday included memorable jingles that would easily pop into your mind as needed.
I'm hungry….two all-beef patties, special sauce…. mmmm McDonalds.
"The best part of waking up…" I could go for a cup of coffee.
Nationwide is on your side…hmm insurance anyone?
Today's most vibrant marketplace is online, where images and words have to stick like glue. That's why it's important to have a website that connects with your prospects and a social media community where people are talking about you.
If your company name gets lodged in their memory bank, when they need you, your business will pop into their head as quickly as you can eat a Kit Kat. (Gimme a break, gimme a break…)
Go look at your own website right now. Do you LOVE it? On a scale of "meh" to "THE best" does it score an "I don't know?" Unless you are positive that your online marketing strategy is doing its job (now and creating a memorable imprint for future recognition) you need a website checkup. How do you know if it's doing its job? Easy. Are you satisfied with your lead flow and sales? Could they be better? We can help.
Contact Harmonia Media today for a free phone consultation (or call 855-535-4848) about your digital marketing strategy. We are not Staples but when it comes to knowing how to drive traffic to your website, we got that.