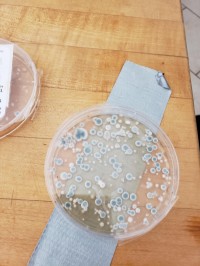 October 18, 2018
Not Responding to Customer Inquiries? Can You Even Imagine?
Have you ever encountered something so preposterous you just walk around shaking your head wondering how it's possible? Yeah, me too. Almost too often actually.
Sometimes, I wish I could shake someone and say: "Dude! Stop for a second! Look at what you're doing! Look at how you're wasting money! Look at how you're wasting time!"
Why don't business owners see the correlation between lazy behaviour and lack of sales? Is it really that hard to understand that even the greatest digital marketing strategy in the world means nothing if YOU don't close the deal? (By "you," of course, I mean whoever answers your company phone, responds to messages and/or online contact forms, etc. If that person is actually YOU, pay attention!)
Mould.
I know, right? I may have some in my house. Not happy about it. My allergies are not happy about it. In fact, no one is really happy to be around me these days. Stupid mould.
So I'm searching for a mould testing company online. Would you believe, this process is adding insult to injury.
I feel like this should require a simple search. Done
Leave a message. Done.
Wait for a callback. Crickets.
One guy put me on hold for 23 minutes. I only lasted that long because I got busy reading articles about mould remediation. I. Can't. Even.
Finally, I hung up. How many potential clients is that guy losing? Whatever, right? Move on.
So I called the next company that came up in the Google search. The phone rang and went immediately to a voicemail. The VM box was FULL.
Look, this seems like something so obvious that it pains me to have to write it.
The best digital marketing company (HarmoniaMedia) can create an amazing website, drive traffic to that site with stellar SEO, inform and excite your community with compelling blogs and offer must-act calls to actions throughout high-quality content.
Here's what we can't do: ANSWER your phone or RESPOND to your content form submissions.
If you are looking to make more money, cultivate new clients, create an online community — great! Harmonia Media can do that for you. However, you need to commit to a closing process that is at-the-ready 24/7– because the Internet works 24/7.
Not sure where to go from here? That's OK. We will help you. Harmonia Media wants to be your partner for the long-term. We start with a consultation and figure out where you are today and where you need to go. Then, we will craft a digital marketing strategy that will drive traffic right to your online home. Amazing content will engage them and compel them to buy or inquire for more information.
Then, it's up to you and your team. But, don't worry — we can assist in setting up a system customer management system that will allow you and your team to provide excellent customer response so that you don't lose a single prospect!
Learn more about the Harmonia Difference and the many services we offer. Then contact us for a free phone consultation. No obligations. You've nothing to lose and a wealth of new customers to gain.