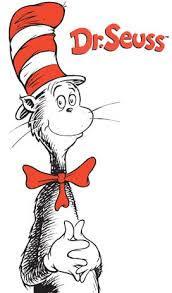 March 2, 2019
Dr. Seuss Knew "Thing 1" or "Thing 2" about Great Marketing
Dr Seuss, the beloved children's writer, introduced the world to Green Eggs & Ham, One Fish, Two Fish, Red Fish, Blue Fish and, of course, the incorrigible Cat in the Hat.
Countless children (of all ages!) can recite the poetry they listened to and learned to read themselves thanks to some clever tricks Theodor Seuss Geisel shared with all of us in his 60-some books
On the occasion of his birthday, the world celebrated Dr Seuss Day on March 2. In the world of digital marketing, it's a good time to reflect on writing that sells. Indeed, Dr Seuss' rhyming and sing songwriting style captivated so many. It was very much a marketing ploy that kept people buying books.
First, Dr Seuss followed one of the most oft-repeated pieces of advice (Thank you, Strunk & White). He omitted needless words. In fact, he often set himself to a limit of only 50 words per book. He decided if he couldn't get the message out clearly in 50 words, children wouldn't be entertained.
Some pretty good advice.
Seuss used easy-to-remember simple words along with rhyme, repetition and alliteration. He created new words, too. One need not go further than The Lorax: Once-ler, snergelly, truffula and Bar-ba-loots. The genius writer did what all great writers do. He used words to paint a picture, even when the picture he was describing was one he invented himself!
So, what can we learn from Dr Seuss as it relates to communication? Plenty.
1. To be effective at marketing, you need to tap into the customer's memory.
Seuss knew that rhyming does that in spades. For example, Nationwide is on your______. Do you even do business with Nationwide? But you do know what they sell, right? How about this one: "Takes a licking and keeps on______."  The best part of waking up is ______ in your cup."
2. Repetition is key. 
Time to make the donuts. Time to make the donuts.
We aren't just talking about words here. Concepts draw a bigger picture, too. When it comes to branding, being repetitive, though not obnoxious, solidifies understanding of the entire story.  Add in a bit of alliteration (repeating the first consonant sound) goes a long way to creating lasting memories.
3. Bring your copy to life with exciting words!
Marketing copy can't be boring or no one will read it. This isn't a school. No one HAS to read your content and they can bounce from your website quicker than the Cat in the Hat can cause mischief.
The truth is, when Dr Seuss began writing his books, kids were reading Dick and Jane in school. Sure, those school books offered simple words and repetition. But they didn't spark the attention and interest of young readers. When Dr Seuss introduced the Cat in the Hat, children were mesmerized. Reading became fun!
This is the bottom line when it comes to digital marketing copy. Have a message. Say it with flair. Then, say it again and again. Make your brand memorable so people will talk about it. Then they'll tell two friends and they'll tell two friends, and so on and so on…
Harmonia Media is different from the other digital marketing firms out there. We Care. (See what I did there?) I did it again, with not a moment to spare!
OK, OK. I'm done. However, we have plenty to talk about when it comes to your marketing strategy. Give Harmonia Media a call for a free consultation and website checkup. If you dare….