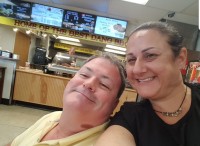 December 13, 2018
3 Ways to Increase Traffic (and Where to Get the BEST DANG BBQ)
In the summer of 2017, I drove down to Roanoke, Va., from New Jersey (a very long and boring ride, I might add) to attend a family wedding. It's hard to keep me amused for short periods of time, nevermind HOURS on highways with nothing to see for miles and miles.
All of a sudden, on the drive, I noticed one lonely billboard. It read: "The Best Dang BBQ in Virginia: 20 Miles Ahead."
I have to admit the use of the word "dang" entertained me for a bit but then I forgot about it. Until I saw another lonely billboard. "Seriously, you've never had BBQ like this. The BEST DANG BBQ."
Hmmm… now I was interested but not only because I was getting hungry. This place actually had engaged me in a conversation of sorts. I was looking for the next billboard. Sure enough… I saw it. "NEXT EXIT: You'll hate yourself if you miss the BEST DANG BBQ!"
OK, I was convinced. I needed to get there. So, we stopped for lunch and, damn, if it wasn't a delicious BBQ brisket with spicy, awesome beans and a piece of buttery cornbread that I still think about to this day. (Smileys, by the way, is located in Raphine, Va. Take Exit 205 off of Interstate 81.)
The point of this story is rather simple if you aren't being creative in driving customers to your website they won't know you exist and will never have the chance to check you out.
3 Ways to Improve Web Traffic
1. Improve your content. 
It's no secret that Google (and other search engines) are seeking out high-quality content and rewarding websites that have it. If you have poor, uninteresting content, your websites won't rank well in search engine results. Bottom line: minimal traffic.
When it comes to keywords, narrow your focus to avoid the obvious and competitive keywords. When you try to rank for the most popular keywords, you are competing with every other company that sells what you sell. If you get a bit creative and think like someone who is searching for what you sell, you can get to the first page of search engine results faster.
Consider that the BEST DANG BBQ joint could compete with other places and possibly lose out if it used BBQ as a keyword. But, if it used a long-tail keyword, it would stand out in a crowd. Who else is using "best dang" as a keyword?
The key is to outsmart the competition and get ahead. Keeping up with others is not going to win the day. Seriously though, when everyone else is using "BBQ" as a keyword, selecting "tastiest meat in town" may get some attention.
2. Speed up your website
This isn't rocket science. If your website loads slowly, no one has time for that. In fact, you want it to load in no more than five seconds. If it's slower than that, the visitor is likely to bounce.
If you speed up your website's loading time, rankings will improve and the result will be increased traffic.
3. Hire a better SEO firm
You chose them because of the price. Or because you knew the guy. Or because you needed a new website and you found a company that promised the world…but didn't deliver. You aren't alone. Too many companies, just like you, fall into this trap.
Companies that make promises such as "you'll be on the first page of Google" are just trying to get you to sign a contract. No one can promise anything when it comes to Google. SEO is a process that must be managed constantly. There are best practices, for sure. But ultimately top page rankings are the result of a lot of hard work and trial and error.
Any company that promises you more than their very best efforts (and has a history of making clients happy) isn't worth your time.
So, select a company that is honest and dedicated to your brand. Find a group that is willing to listen to your mission wholeheartedly and work to make your website a must-visit destination.
Give us a try! Harmonia Media would love the opportunity to discuss what's been going wrong so we can do better. Call (855) 535-4848  today for a FREE phone consultation.