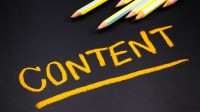 November 9, 2017
3 Ways to Attract Eyeballs with Great Social Media Content
As with everything else, when it comes to content marketing — especially for social media — there are many ways to get the job done. However, there are some tried and true best practices (yikes, next I'll be saying "paradigm shift" and "think outside of the box!") to make sure you are connecting with your intended audience, driving traffic and, hopefully, exceeding business objectives.
Know Your Audience.
Let's start in the most obvious place. WHO are you trying to communicate with on your social media platforms? If you take the time upfront to get an understanding of who needs what you are selling, you can write with the tone, attitude and authority appropriate for the conversation. Don't make the mistake that everyone is a potential customer. Digital marketing is most productive when it's targeted, strategic and focused.
K.I.S.S. 
The old acronym K.I.S.S. (Keep it Simple Sweetheart!) most definitely applies to social media strategy. First of all, you have a limited character count. Second, statistics reveal that you have 15 seconds to capture someone's attention on a blog post. It stands to reason that you have far less time to hold a pair of eyeballs when it comes to social media. To make people click, be creative, direct and uncomplicated. Whatever you need to say, simplify it and direct them to a landing page on your website that continues the conversation.
Call to Action
Would you be surprised to learn that companies spend countless hours and dollars creating social media content that goes nowhere fast? It's true. That's because the posts fail to actually instruct the viewer in any meaningful way. Call to action matters throughout your digital marketing strategy. But it's especially important when you have only 140 characters to get the job done.
One more thing, as a bonus tip: consider doing what you do best and allow Harmonia Media, digital marketing experts, to manage your social media and more. Give us a call and we'll tell you why the buck stops here.